sleeves
Hitch-Hikers Guide to Punkrock

THE ULTIMATE SLEEVES
              
AUCTION FOR LATEST LIST
---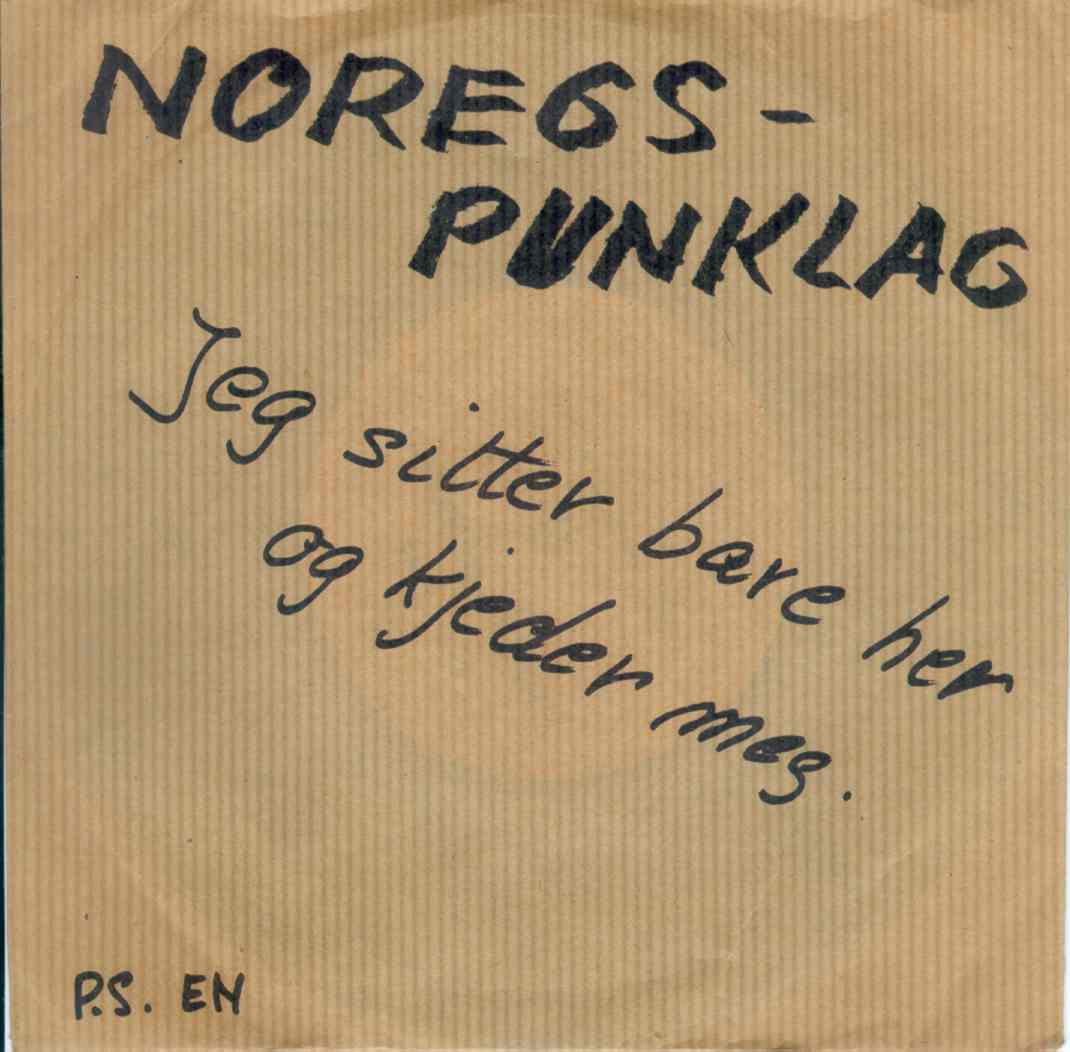 NOREGS PUNKLAG

Du er eit svin !/ Jeg sitter bare her og kjeder mog

Private Label 1978
Depending on what you call Punk, this might be the first
vinyl-offer in Punk from Norway (along with SUBWAY SUCK)
back from 1977-78. While this is more light-weight compared to
the bit later releases by KJOTT,OSLO BORS and HAERVERK, it had already
the Punk-Wave touch and strong ROCK elements added to round up the whole
(the usual thing with bands that claimed Punk but mostly
in the fashion-sense of word). DU ER ET EIN SVIN (i doubt it could be
anything but YOU ARE A SWINE translated) is a remake of GOD SAVE THE QUEEN
approaching slightly the ineptitude sort of Punk/Rock.
The B-side, possibly a WHO remake, is less appealing but not
totally different to the 1st song. The singer, as legions back then,
carbon-copies Johnny Rotten despite being on a bigger label. It's hard
to get, maybe also 'cos one member is often seen in the Norwegian TV these days?
Nice paper-bag sleeve, too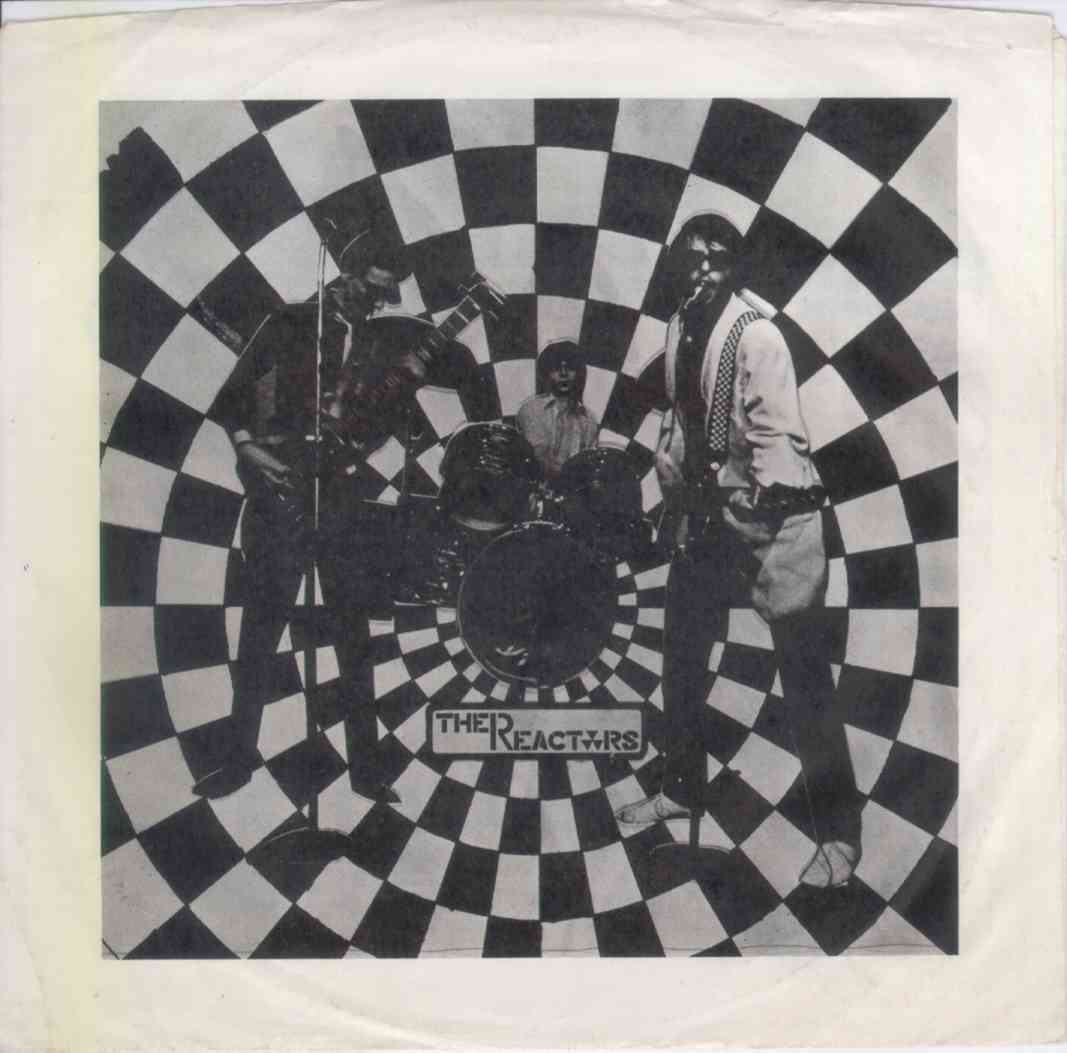 REACTORS
I want sex/The seduction center
Meltdown Music 1979
Well-produced aggressive FAST-PUNK by this NYC-trio
with razor-sharp guitars,recorded during the last days of 1979.
Both songs are equally great, lightning-speed PUNK.
It's a shame that only 100x copies were pressed and adding
insult to injury, a few of these were destroyed in a flood in
one members house.
This single was initially supposed to be a demo-release
(hence the low pressing-size) so they could shop with it and get
a record-deal eventually (which never happened in the time, until
almost 20xy years later). The band had a follow-up single that they shared
with the DERIZLANDS from New Jersey with a version of "I Want Sex"
that -beside suffering worse production- isn't half near
to the version on this single.
Check out their posthumous LP "Half Life" on Italian
archival label RAVE-UP RECORDS.
It has all studio songs and live-material with in-depth
liner-notes of band-leader Shepherd Ginzburg
(who recently revived REACTORS, with him being the only
surviving member and a CD out)
A copy of this single in M/M (!) had been offered some
10x years ago by notorious PUNK-enthusiast Chuck Warner
at 18 USD, and a fellow collecting pal managed to find
two (!) copies of this record in a NYC shop ,
for 25 cents each...,but that's another story.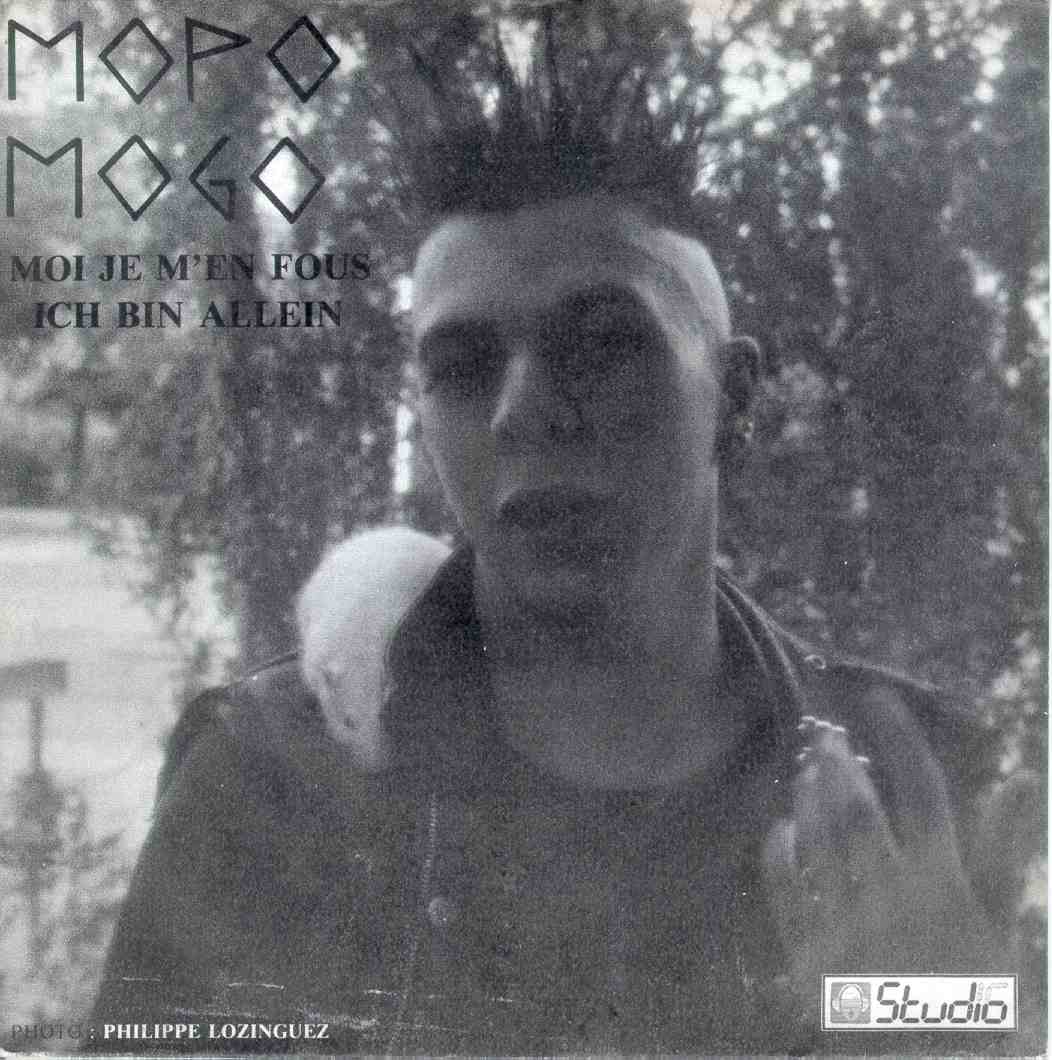 MOPO MOGO

Pouvoir/Fuck off

Studio 1983

A record that almost never turns up for whatever reason.
It might be the small pressing size or the usual saga
of "records taking too much space and then frisbee'd".
It's definitely AGGRO-style drum-machine PUNK in the vein of
their fellow countrymen METAL URBAIN
"Pouvoir" ("power" ?) and also "Fuck Off" are intense
and well-produced rhythmic Punkers with amazing breaks.
I don't have info on the personnel other than the leader
and singer seemed to be a Street-Punker according to the
sleeve (complete with mohawk and rat)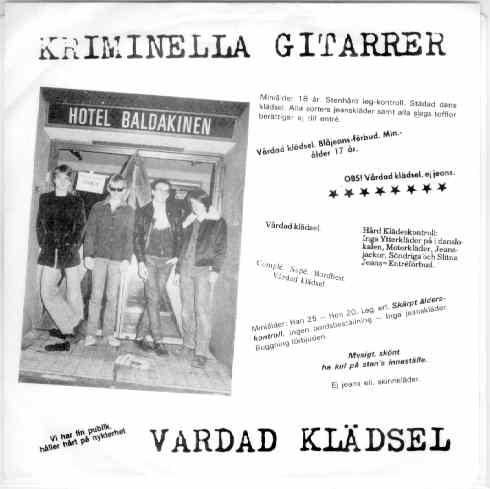 KRIMINELLA GITARRER
Vardad klädsel/Förbjudna ljud
Kloaak 1978
This is their debut record out of 3x singles in total.
It's apparently the 2nd PUNK record being released
in Sweden, recorded in the first months of 1978.
(the FIRST ever Swedish PUNK record was the
debut single of PROBLEM, btw)
For 1978 it's an infernal overdose of buzz-saw guitars
(really criminal!) and manic screaming by
STRY TERRARIE (also in BESOKARNA, STRY OCH STRIPPARNA
among some others).
A-side song deals with dress-code,
it's brutal PUNK which is inexplicably noisy partially.
Their follow-up single is comparably "softer" but still great
while the last, the 3rd 45, is mellowed-down PUNK and a flip-side
with the typical SVENSK-SKA of the period.
Pressing size of this single is around 350-400 copies only.
Try to get the posthumous album (400x copies only, maybe
sold out by now) with all singles, compilation LP contributions and
a demo of the earliest days and unreleased studio tunes.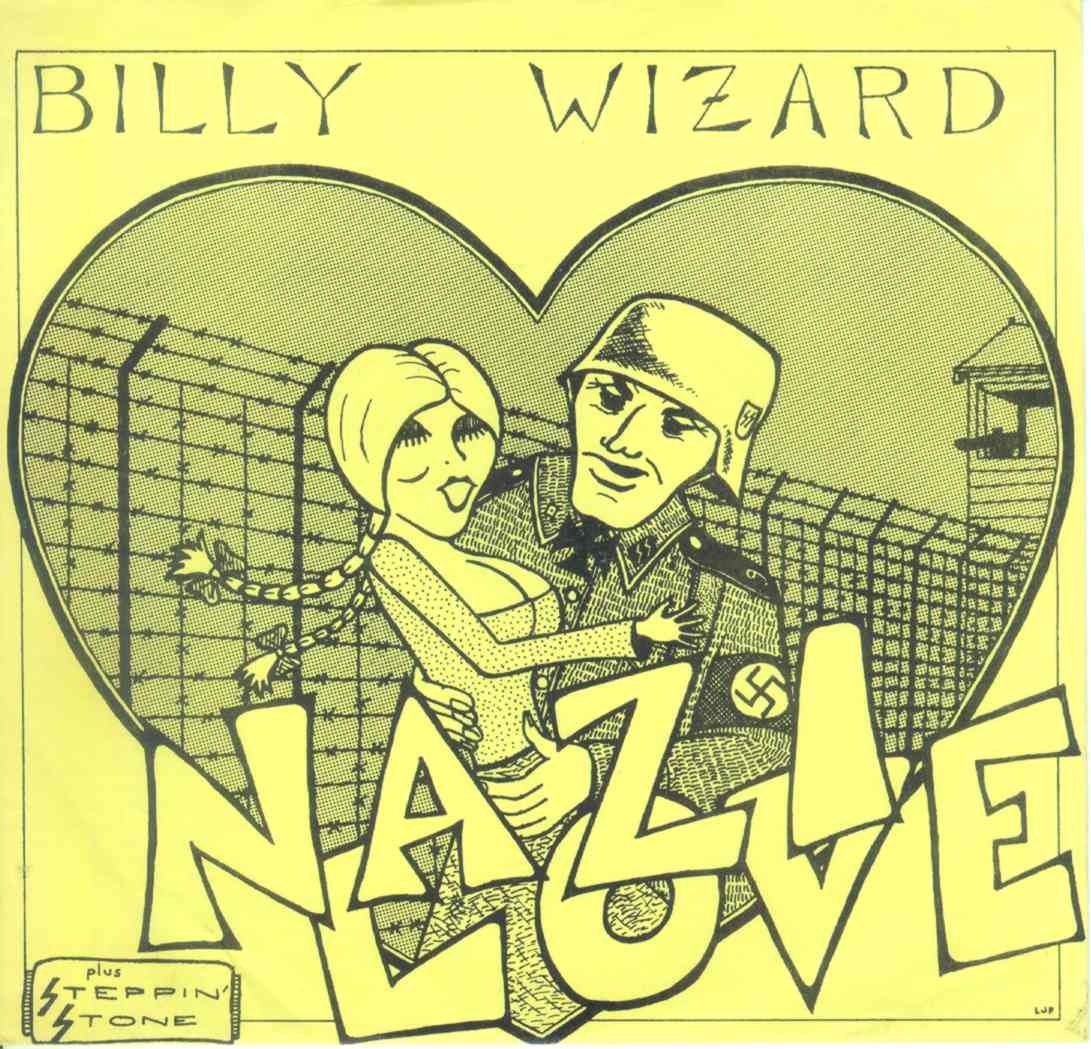 BILLY WIZARD

Nazi love/Stepping stone

SS 1978

A Punk novelty from a guy named BILLY WIZARD
who was a student back then in 1978.
He stayed in California and also Vermont.
NAZI LOVE is a slow grinding Punk-alike song
about Adolf while STEPPIN STONE on the flip-side
(one of the most-covered songs in Punk ever ?)
can easily get on your nerves as of the vocals
and the strange violin, still punky with hints
of Captain Beefheart / Stench Band snotty-ness.
This record can be considered as very odd.
Apparently BW also had an album with his orchestra
which I haven't heard yet.
This single has at least two different pressings,
one version in clear wax.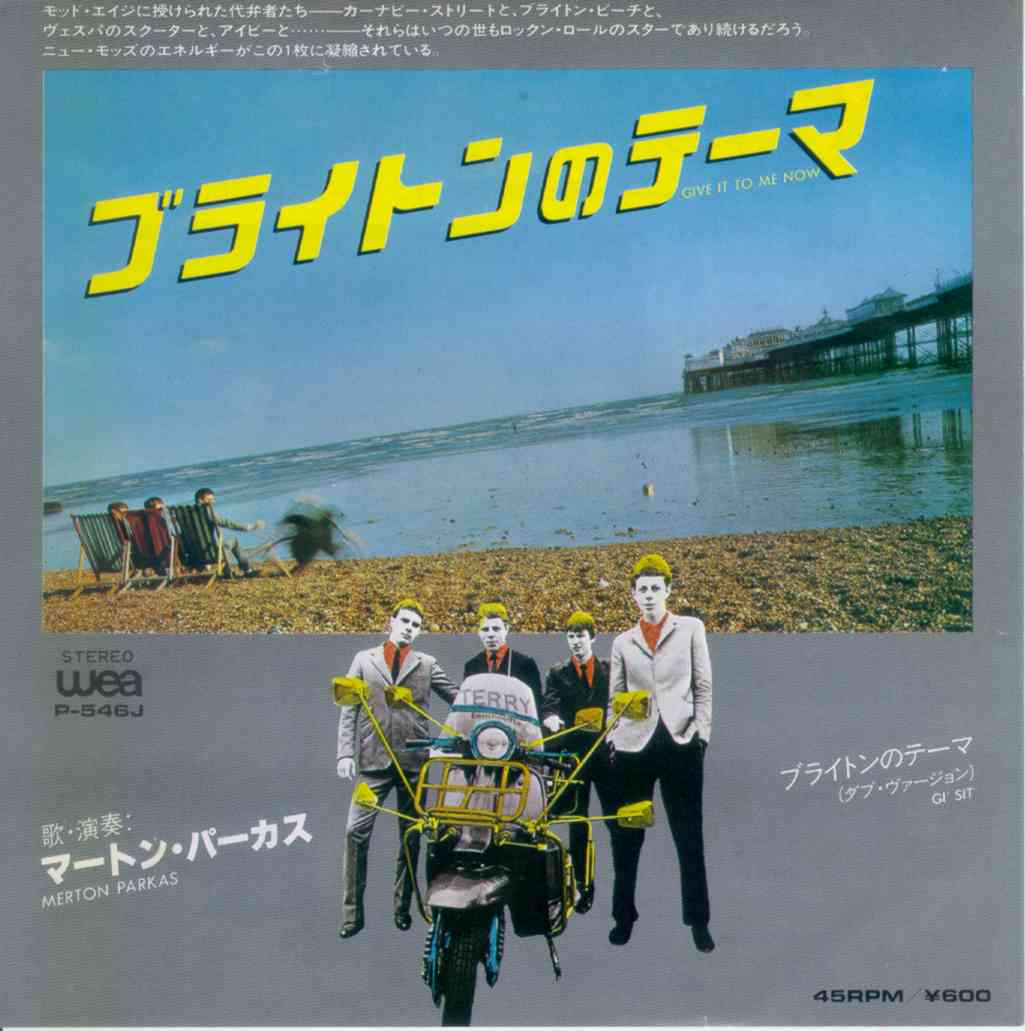 MERTON PARKAS
Give it to me now/Gi' it
WEA 1979 JAPAN PS
Just another foreign sleeve to watch
for all the Mod Revivalists out there. This is the Japanese
version of the third Merton Parkas single, which is indeed
one of the most beautiful picture sleeves for your mod
collection. I know it's probably the most cliché-like too
with Brighton Beach and the guys standing around the scooter
...but don't worry
THANKS TO BEHJAN FOR MOST OF THE REVIEWS !
---